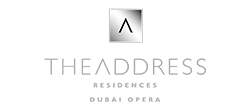 Address Residences by Emaar Sale
Downtown Dubai | Starting Price : 0
Overview
Emaar Group presents their current project name Address Residence located at Dubai Opera. Two twin buildings design based on a traditional Sailboat of the Arabic Sea.
Each unit gives you a glimpse of the Iconic building Burj Khalifa and Dubai fountain from the window. Walls have Natural Earth Pattern and Wooden finish interior design that takes inspiration from nature. The beautifully crafted interior design feels premium. From your home, you can take a glimpse of the iconic building Burj Khalifa. Residents can get a fully equipped home with the best service provided by Emaar Group to live a comfortable and luxurious life.
There are lots of activities are available in Address Residences to relax your mind and enjoy yourself. Premium properties with five-star customer service, best luxurious and comfortable life can be yours.
Features & Amenities
Emaar Group focuses on resident comfort and makes them feel like their own home. EMAAR Group has the best and most premium properties around the globe. They are also awarded for best real estate properties.
Master Plan
Emaar Group develops the Address Residences place at Dubai Opera to provide a luxurious and comfortable lifestyle for their customer. It can become a potential landmark for competitors. This project started in 2019 and was completed in 2020.
Address Residence has a unique, beautifully designed tall twin building that comes up with 55 floors of hotels and Apartments and 65 floors of Residential properties with five-star service. Address Residences size started with the 808 Square fits 1691 sq. ft. and they have 1BHK, 2BHK, 3BHK apartments for you. There are a total of 803 units are build but few units are only available for now.
In the top floor swimming pool, same floor café also available you can enjoy the skyline view from the top floor of Address Residences. 64 floors spa available for residents. For Resident EMAAR Group provides many facilities and good services.
Address Residences is surrounded by Shopping Malls, the best 5-star Restaurant on both sides of the fountain and different category theatres are available. It can show you a new way of living.
Location
Address Residences located in Downtown Dubai with easy accessible Iconic place, easy communication from lots of important places in Dubai. It has Sheikh Zayed Road on the one side and Financial Centre Road on the other.
Address Residences premium and best-designed apartments can be yours, let me remind you that there are only a few units are left others are already sold out hurry up and make it yours so that can enjoy your comfortable and luxurious life in your apartment.